Branding Your Work Space
Branding your workspace with printed office wallpaper is a great way to brighten up your workspace. Printed wallpaper modernises your workspace and emphasises company values, reminding employees of their roles in your company.
No one wants to work in a dull and boring office and to keep your best talent, why not brighten up your office with printed wallpaper.
office wallpaper printing from The Printroom Group will give your interior workspace a vibrant and colourful new look
We can print from High-Resolution files supplied from your Marketing Department. Alternatively, we can work with you to create bespoke graphics for your wallpaper using our Creative Studio, Fifteen Ninety.
Our Office Wallpaper printing service is bespoke, so your graphics will not be seen anywhere else. Your graphics can have photos, infographics, charts, or motivational quotes printed on them.
With our In-House Production Team, we can offer a full service from creative design, print, and installation or a print only service.
Along with printed wallpaper, we also offer to print floor graphics, die-cut vinyl, window frosting, and full manifestations.
We have a range of materials for different applications to offer you the perfect solution for your Interior office branding. To find out about The Printroom's Office Wallpaper Printing service read our blog below. If you have any questions, feel free to either call us on 0845 072 2778 or e-mail us hello@printroom.co.uk.
We also have our online chatbox where you can speak to one of our team during regular office hours.
What graphics work best on printed wallpaper?
As you will be pasting wallpaper over a large area, you will need high-quality large photographs. You can buy images from stock libraries like Shutterstock or Dreamstime. However, the images have to be 300dpi at the full size if you want them to be sharp. We print your wallpaper on photo quality HP Printers. Unlike a business card or book, you are usually standing a few feet away when seeing the wallpaper, so sometimes the wallpaper is not as sharp when you are close up. This method is the industry standard as it is hard to get photos at a high resolution and a large size. Some clients will use their pictures if this is the case.
We can create infographics and illustrations can in our Studio. The Studio designs most office wallpaper in Adobe Illustrator as this enables them to work with vector files which scale up to any size without distorting. If photos are needed, try using a collage of smaller photos rather than one large photo across the wallpaper to prevent pixellated or blurry images.
Do you have a creative team? Try some vibrant graphics; they look compelling when on a wall.
What kind of costs is Personalised Wallpaper?
The wallpaper that we print onto is a high-end printable wallpaper. There are different papers on the market. However, we will only provide a higher-end product.
If you are looking for wallpaper as cheap as you can get it, then we are not the lowest price on the market.
The cheaper wallpaper can fade after a while, or tend to peel off. Not something that you would want to happen a few months after installation.
Our costs are £20 per square metre for paste-able wallpaper and £25 per square meter for self-adhesive wallpaper.
The wallpaper that we supply is cost-effective for the level of quality. We only use original HP inks and have the most up-to-date digital printing machinery. This standard makes sure that we only provide vibrant and long-lasting printed wallpaper.
Smooth or Textured Wallpaper?
We offer both smooth or textured wallpaper. Both textures are a premium stock; Both wallpapers are FSC approved stock types too.
Our wallpapers also meet the highest safety standard and are fire rated for both commercial and public uses. The wallpaper supplied by The Printroom Group is biocide. It also has an anti-microbial coating, which makes it suitable for use in the healthcare market, childcare, food outlets, and even educational spaces. It is a premium quality wallpaper designed for areas of high traffic, public and commercial areas. The printed wallpaper has robust durability and also has a high-end finish to give the best printing results.
Both self-adhesive and paste-able wallpaper is both washable and scratch-resistant.
The wallpapers are PVC free and completely odourless. We have detailed the full specification of our wallpapers below:
Textured Wall Paper
350gsm with sand embossed/ textured surface.
Fire retardant to B1 and EN13501-1 Standards
Commercial Quality Standard
Flame resistant: Class A, B1 and EN 13501
Life expectancy 20 years.
Printed and cut in the UK.
Smooth Wallpaper
175gsm with a smooth surface
Fire retardant to B1 and EN13501-1 Standards
Commercial Quality Standard
Flame resistant: Class A, B1 and EN 13501
Life expectancy 20 years.
Printed and cut in the UK.
Self-adhesive or Paste-able Wallpaper?
Our Office wallpaper comes in either self-adhesive or paste-able versions.
The paste-able wallpaper is a cheaper option, and some installers prefer the paper to a self-adhesive stock.
If you are pasting to doors or other areas other than walls, self-adhesive stocks are preferred. For a self-adhesive wallpaper stock, we recommend a professional graphics/wall-covering installer. However, if you have a decorator is experienced with wallpaper, then we can arrange a conference call with them. We will discuss exactly how we will produce the paper and what options they are most comfortable.
To hang your wallpaper, you can use any decent wallpaper paste. If you are going to spend both time and money on re-branding your offices its best to pay a little extra on a suitable higher-quality paste.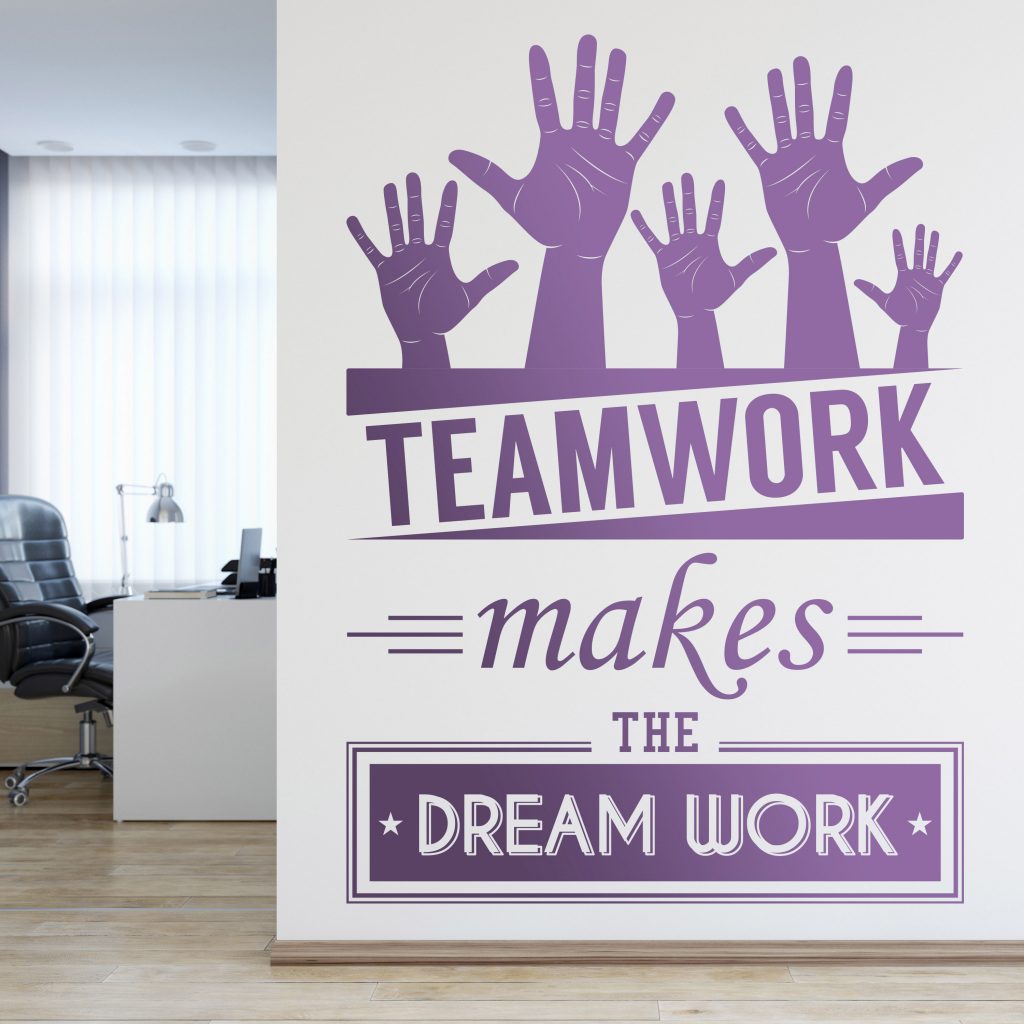 How is the wallpaper supplied?
We will supply the wallpaper in strips of 500mm as standard. However, depending on the length of the wall, we can provide the paper cut to exact widths for equal lengths. This prevents having a random small strip at the end of the wall.
The printed wallpaper will come with a slight overlap, which can help when lining up graphics. We alternatively can cut precisely to size.
Is the wallpaper fire-proof?
Because of new legislation wallpaper has to conform to EU Standards. Our wallpaper is Fire retardant to B1 and EN13501-1 Standards and a commercial quality standard.
It is also flame resistant Fire retardant to B1 and EN13501-1 Standards and has a life expectancy of 20 years. Our printed wallpaper is all produced in our Printroom in Bracknell Berkshire, between Reading and London.
What size does the wallpaper come?
Our wallpaper will be supplied in various widths as detailed above. We will work with installers, making sure they are pleased with what we provide. This way, they will know what to expect when fitting.
The wallpaper is rolled in individual rolls and is packed with bubble wrap and then carefully boxed to prevent any damage in transit.
When the wallpaper arrives, it will come with a printed sheet showing what printed image is on each roll. We number each roll, corresponding to matching numbers on the instruction sheets.
Can anyone install printed wallpaper?
We have a professional installation team that can fit your wallpaper. However, if you have a professional decorator, they can install the wallpapers in your office. Our installers are fully insured, and we can carry out Risk assessment sheets for you. Our installation team will cover the whole of Europe. However the cost of installation also depends on travelling time from Berkshire, and if it is out of the country, you may incur travelling expenses. Our production team will work with an installer of your choice. We want to make sure that installation works both efficiently and on budget.
Can you produce proof of your personalised wallpaper?
Yes, we can is the simple answer. We recommend that you try a strip before printing all wallpaper graphics. This ensures that you are pleased with the printed wallpaper. You can also paste or apply the printed piece to a small area to see how it sits on your wall.
How long does the wallpaper take to arrive?
Once you have placed an order, we can print the wallpaper within a week. This gives enough time to make sure that everything is correct, the ink has thoroughly dried, and colour calibration is 110%.
Orders are sent out via a tracked courier, or if we are installing our team will bring the graphics with them on the day.
What uses works for Printed Office Wallpapers.
Printed wallpapers are not just for offices. You can use our printed wallpaper in various commercial and home spaces. It is used by Architects, design agencies, interior decorators, display specialists, and creative agencies.
Including reception areas, retail outlets, cafés, bars,  restaurants, and other food outlets, high-street retail stores, hotels, childcare centres, sports centres, stairwells, galleries, museums, dance studios, hospitality lounges, airports, retail showcases, exhibitions, nightclubs,
If you want to speak to our Wallpaper specialists contact The Printroom Group online at www.printroom-largeformat.co.uk, or www.printroom.co.uk or send us an e-mail hello@printroom.co.uk
Posted on July 21st 2019 by Simon Lewington
more than just print
Whether you need printed brochures, business cards, posters, presentation folders, annual reports or letterheads, The Printroom Group offer the perfect print solution.
Our clients include blue-chip companies, software companies and charities. We also produce all aspects of school printing and promotional material and work closely with marketing and communication departments in many industries.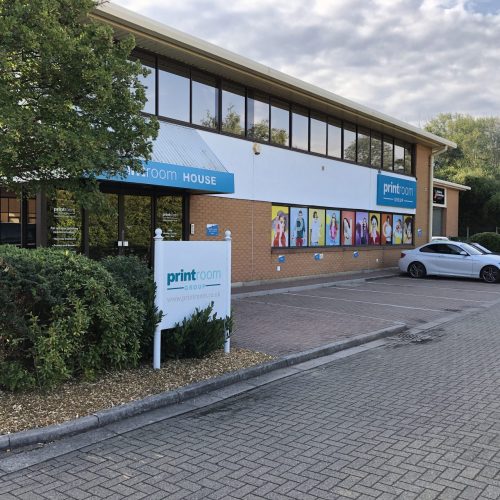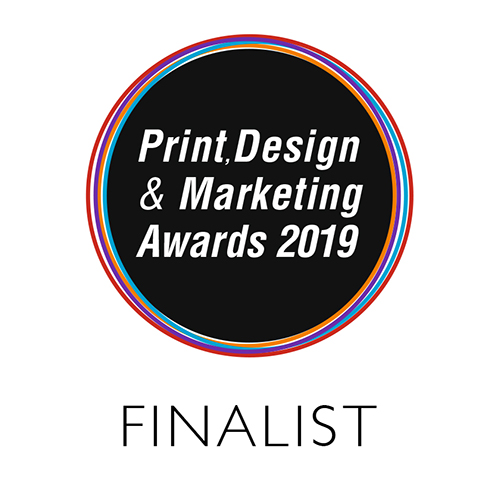 Get in touch with our team!
If you would like to speak to one of our highly experienced team please contact us.
Get in touch...