What Social Distancing Notices Do I Need For My Business?
If you manage or own a business that is open to the public during the Coronavirus Lockdown period, chances are that you will need social distancing notices. The Printroom Group have been helping spread these notices that have been made available by the government through means of printed collateral and printed signage.
Social Distancing Roller Banners
The Printroom Group have been suppling printed Pull-up (or roller banners) with reminders of safe distancing printed on them.
The most popular banners are our Premium Roller Banners. They are of good quality, so they won't make your environment look cheap. However, and most importantly the Premium Roller Banners do not "bow" or lean forward. This in itself can cause issues, especially with people trying to keep out of each other's two-metre "safe zone" or young children running about. You don't want the banners falling on someone (for more info on the difference in roller banners read our blog).
Social Distancing Poster Printing
We also are producing laminated posters to attach to tills and onto doors. These can be wiped clean with anti-bacterial spray. Posters generally come in A3 size (420mm x 297mm) up to A0 (1189mm x 841mm). These could be to advertising the proper handwashing method or to enforce social distancing rules on your shop floor, in your warehouse, or publicly.
If you're not familiar with paper sizes an A3 is double the size of a standard letterhead and an A0 is what you would find on most bus stops up and down the UK.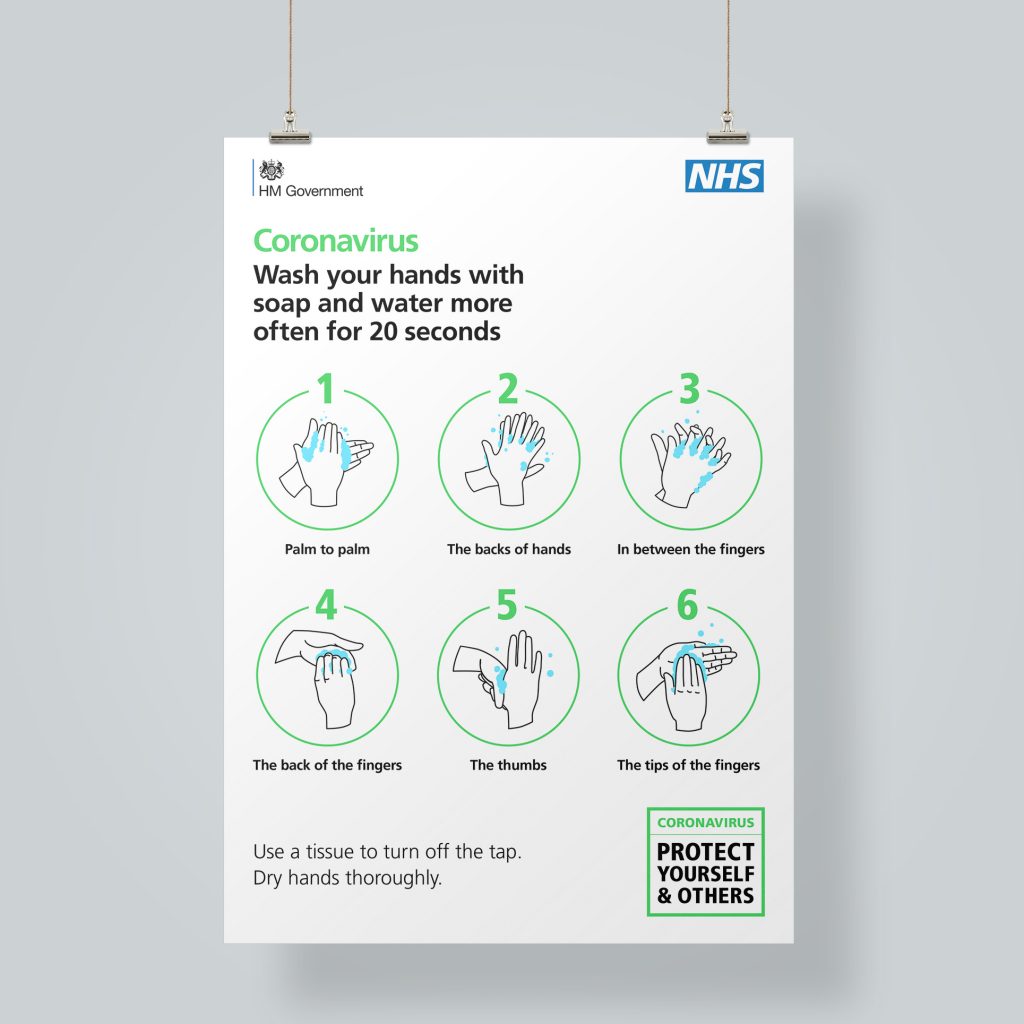 If you are looking for posters for your windows we have a range of posters online. Have a look at our page here.
Social Distancing Floor Graphics
The Printroom Group are also producing a lot of floor graphics like the examples shown below.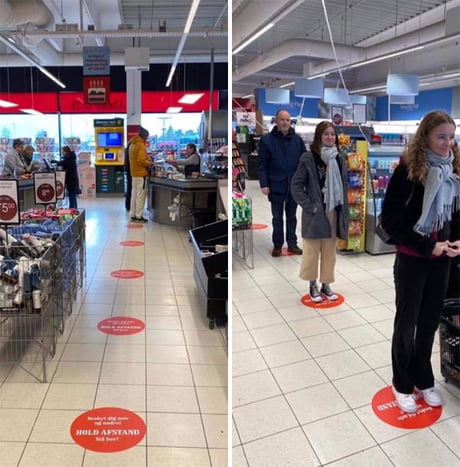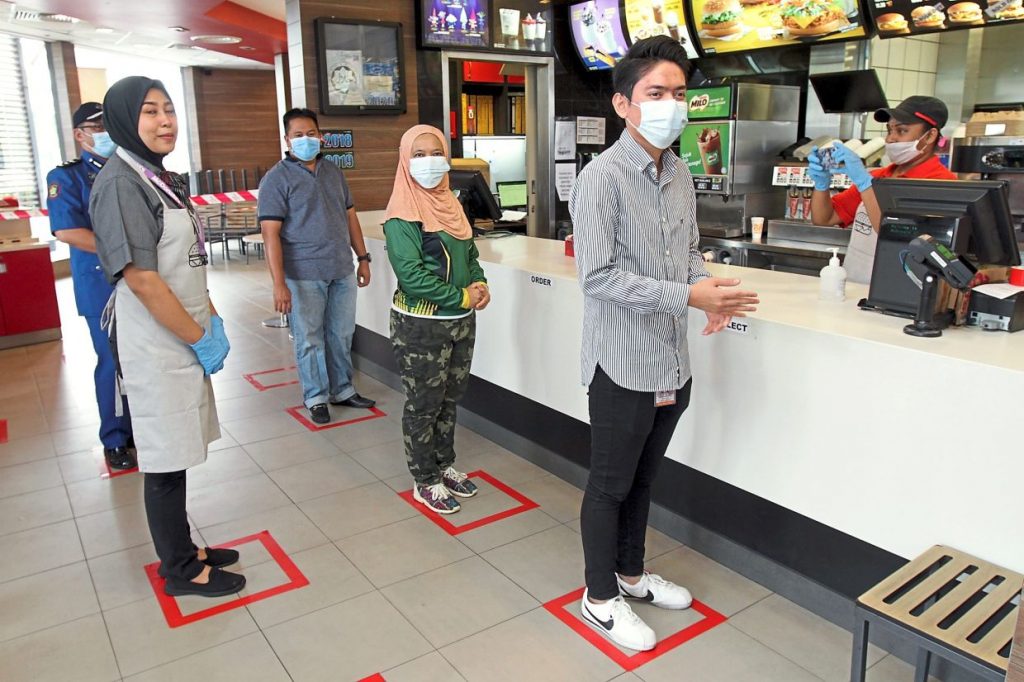 The floor graphics are printed in full colour onto a high-end sticky vinyl and then an anti-slip clear laminate is put on top. There is a cheaper alternative, which is not laminated, however, we would not recommend this for a place with a high footfall or for more than a few days. Without the lamination to protect your floor graphics, there is no protection for the ink and the print can both fade and be worn off very quickly.
Printed floor graphics can be cut to any shape, the most popular is the circular disc-shaped stickers. We can print these in any size that you need, however, based on experience with existing clients…
We have set up some standard size floor graphics and priced in both single quantities and multiples of 10. Larger quantities are available on request, just send your request to us via email to hello@printroom.co.uk and we'll come back to you with a quote straight away. Have a look at our floor graphics page here.
What Info Do I Need To Put on My Printed Material?
We have some pre-designed social distancing resources that can be used. We can also amend these to add your own logo or colours if needed. We have opted for bright colours on the floor graphics as these really stand out and won't get lost within your shop branding.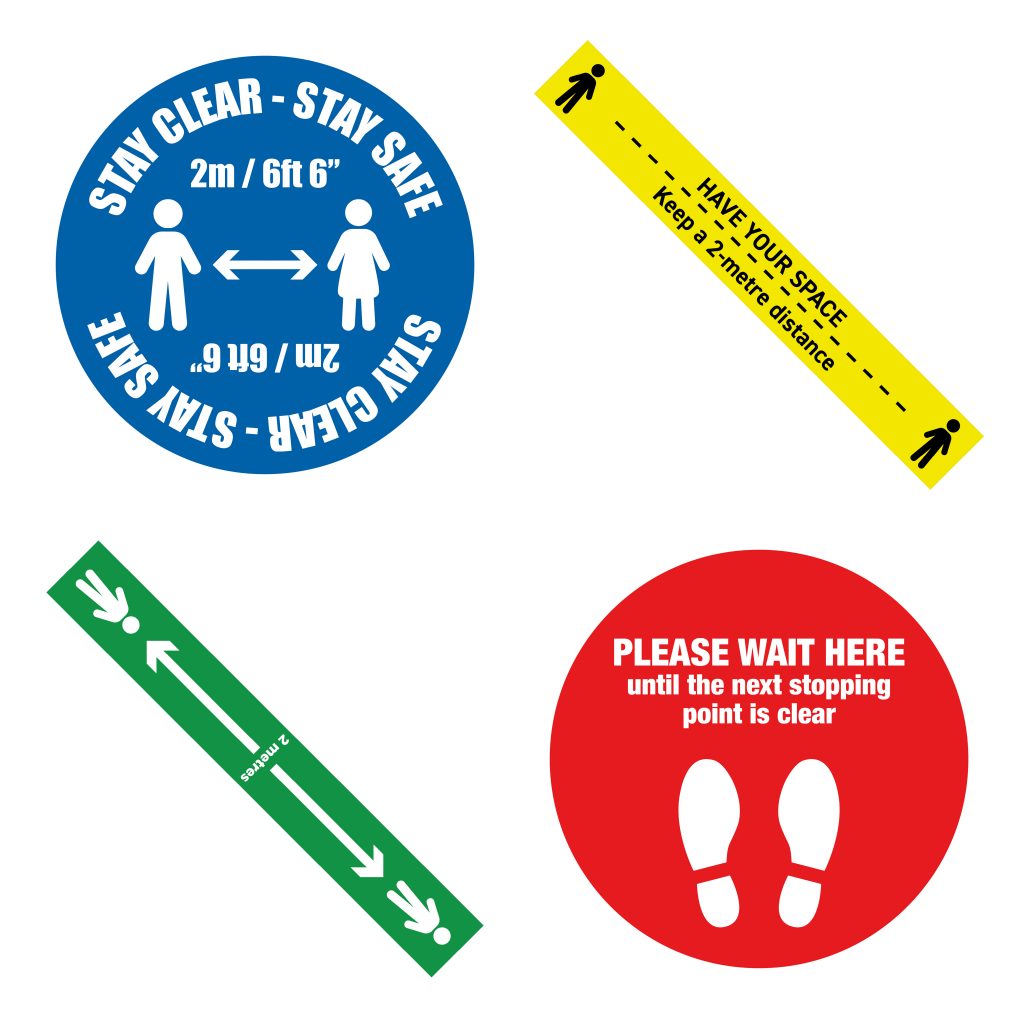 There is also some downloadable poster artwork on the government website here: https://assets.publishing.service.gov.uk/government/uploads/system/uploads/attachment_data/file/876212/COVID19_Guidance_Employers_and_businesses_.pdf
We are able to use any of this artwork, alternatively, you can download this and print smaller posters at home.
The BBC also has some useful information as well as some more social distancing graphics on their website here: https://www.bbc.co.uk/news/uk-51914645
If you need any more information on social distancing graphics or help with anything related to this post please feel free to contact me directly on slewington@printroom.co.uk.
The Printroom Team.
Posted on April 6th 2020 by Rachel Wise
more than just print
Whether you need printed brochures, business cards, posters, presentation folders, annual reports or letterheads, The Printroom Group offer the perfect print solution.
Our clients include blue-chip companies, software companies and charities. We also produce all aspects of school printing and promotional material and work closely with marketing and communication departments in many industries.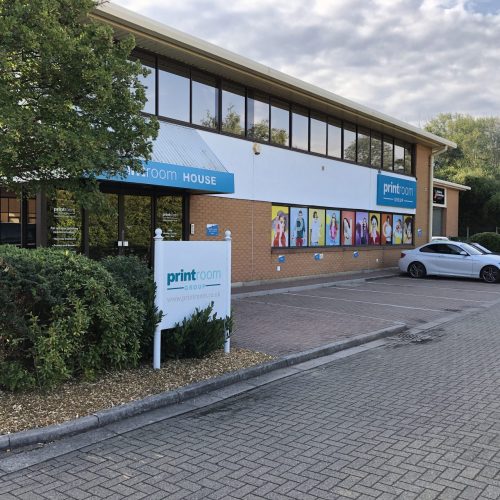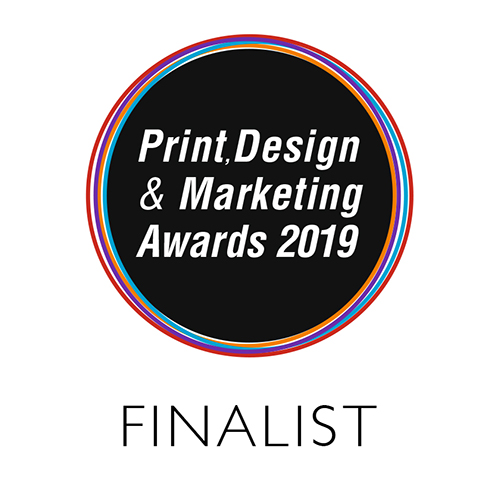 Get in touch with our team!
If you would like to speak to one of our highly experienced team please contact us.
Get in touch...